After working quite a few nights after work, both with us and with Mr. Fix-It Mark, we had most of the drywall up and some trim in the hallway. The next stage of the bathroom remodel could begin. Unfortunately, Max's birthday fell right in the middle of all this leaving him to decide to celebrate a new bathroom over another year older (maybe 29 will be better for him?), a new bathroom is a pretty sweet birthday present in my opinion. It's the gift that keeps on giving. *shrug
Anyways! His birthday came and went and the Saturday following it his parents decided to give us a little more help...aka another Workgasm. After the last time we spend the entire weekend working like dogs, Max set some ground rules for his "go, go, go" dad. By 8:00 PM, no matter what we were doing, we were going to stop and clean up for the night, have dinner and enjoy each other's company. Much nicer compared to the 10:30 PM finish time we had the previous work weekend. With that being said, we began our work.
Saturday: Day 1
The men started by mudding the drywall. We wanted to get it done as soon as possible to give the wall proper time to dry. This included the bathroom and the newly knocked out dining room/living room wall refinishing the corners. They also worked on adding the metal corner joints to the drywall.
This entire week was in the upper 70s and lower 80s and Ellen and I were super unmotivated to be doing house repairs when we could be enjoying the weather. Can you really blame us? 80 degree weather in October is not something we are used to in Wisconsin. We actively sought to be actively lazy and take all the trips to the store we could for the boys.
Among those trips, we stumbled upon an estate sale about a block and a half from our house and scored a few tools for Max, couple of decor pieces and a sweet cupboard to house my grandmother's fine china she gave me. Pretty sweet and it just needs a little paint and TLC. Did I mention that everything was half off since it was the last day of the sale? I ended up with the cupboard for $12.50, knocked down from $25. I'm not 100% sure what I'm going to do with it yet, like most of my acquired furniture, but I'm leaning toward a white paint job and possibly putting a glass door in to showcase the dishes.
As the afternoon sun peaked, we buckled down and started back inside the house. We started by painting the dining room the same blue from the living room accent wall, Glidden's Cobalt Blue.
Sunday: Day 2
Ellen and I tackled a little project of repairing a mirror I acquired back in 2003 when I was a junior in college living with these girls, Jen and Brea (besties and sorority pledge class sisters), now who both have families of their own. So who ever actually bought this mirror for our apartment that year, I thank you. It's moved with me everywhere since then.
So the Target mirror was quite nicked up, since it had been moved from my calculations nine times, and the glass was really loose. We first popped the staples off the back to remove the glass. Then taking white trim paint that we already owned, we gave the frame a quick touch up.
After the frame had dried, I took Gorilla glue and lightly went around the inside of the frame and attached the mirror. Gorilla Glue calls to clamp things down for about two hours. I did not want to break the glass, so I used a few books and let them set. Boom. Quick redo.
Max and Mark worked on installing our new bathroom floor. For speed purposes, we decided to do a laminate in the main bathroom as well. We went with Swiftlock Brazilian Walnut from Lowe's since it had two separate textures giving it a very realistic look. They were a special order item we got at the last Workgasm, but well worth the wait. I know you are thinking, "wood floors in a bathroom?" Just you wait!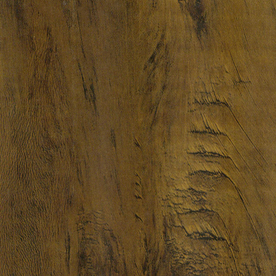 After laying down the laminate pad, Mark measured and installed while Max cut. Quite the system. Mark alternated piece sizes to make the floor look laid like natural hardwood.
They just had enough flooring with two boxes of materials. They were even nice enough to let me lay the last piece even though I didn't help with the rest of the floor.
Enjoying our
gorgeous
floors was short lived as we covered them up right away with paper so we could finish the walls.
The weekend ended with some Culver's burgers and fries and a sense of accomplishment.
The following Wednesday, Mr. Fix-It Mark came back. He and myself finished the walls by texturing and priming them to get ready for paint. Instead of using the Homax Wall Texture Orange Peel we used in the half bath, which was messy and a little expensive for such a small space, we opted for a more traditional route. We had leftover Homax Sand Roll On Texture in medium finish from the bedroom wall updates so we just mixed that with our primer and we were good to go.