Our second stage of demo actually started with a shopping trip. We previously had went to our local Lowe's and Menards to pick out our tub and toilet (we found our sink at West Elm online) and this time we went to purchase. First we headed to Lowe's to buy our tub and wall surround. We chose to go with Peerless's wall and tub set since it fit our tub opening and we liked the semi-modern look of it with all the built in shelves.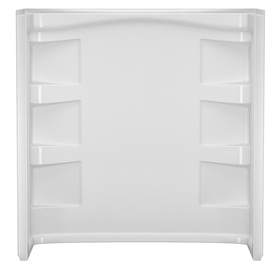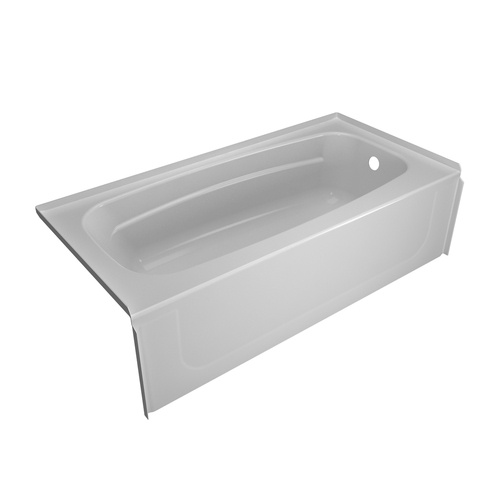 We then asked if they could deliver it for us on Friday when our plummer was coming. Nope. Saturday was the earliest they could do it. We then asked if they had them both in stock in their store. Yes, they did. Then we asked if they had a truck we could rent. No, they didn't. So we told them to hold that thought and we'd be right back.
Since we had to go to Menards anyways to get our toilet and shower fixtures we figured we'd at least ask if they had a truck rental. So we purchased our toilet, the
Mansfield Summit 3 Elongated Front
(Max likes the longer ones apparently) in white. I liked it for its low water consumption and high flush power.
As we went to pay we asked about the truck. We were in luck! For $22.45 (that is with taxes and a fuel surcharge) we got a truck for 75 minutes, perfect for what we needed it for. We went back to Lowe's, picked up the tub and walls and headed home.
The wall removal was a little bit easier than the tile had been. Our bathroom currently has no vent (way out of date we know...) so the drywall over time has just been absorbing all that extra moisture. It didn't just fall out thank God, but it was definitely looser than it should be.
We used our trusty wheelbarrow again for removal. Thanks Mark and Ellen for that housewarming gift!
Here are all our new bathroom materials just
waiting
to jump out of their boxes and get installed.
Look at all that drywall removed. I don't know what is sexier, the tool belt or the Badger hat.
Another fun thing currently. Since we are only showering in this bathroom (from above photo you can tell we have no walls) we have been doing all our personal grooming in our little bathroom, formally known as the Fish Bathroom, also known as the Poop Bathroom since the fish are no more. Nice I can now start dinner while I am brushing my teeth.